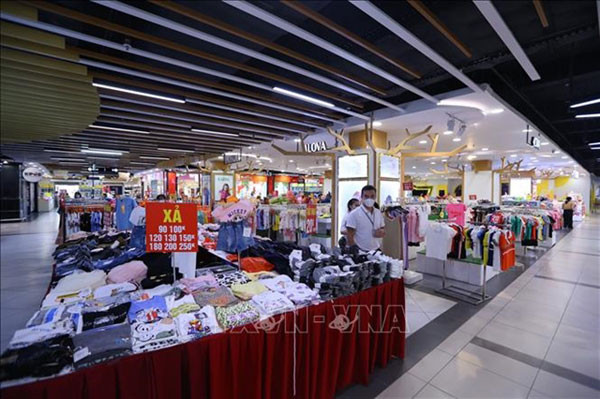 Vietnam completes modern trade infrastructure development policies
Viet Nga, deputy director of the Department of Internal Market at the Ministry of Industry and Trade (MoIT), said the ministry will continue to coordinate with relevant ministries, sectors and localities to review and develop trade infrastructure to to approve planning, plans and strategies. They will focus on the development of a wholesale market and a logistics center.
The Ministry of Information Technology will continue to review and modify the mechanisms and policies relating to the development of commercial infrastructure, because the existing mechanisms and policies have not yet created a breakthrough.
The Ministry has drawn up a draft circular regulating the classification and management of certain commercial infrastructures. This will aim to develop more modern trade infrastructure in line with the domestic trade development strategy to 2030 with a vision to 2045.
Its statistics show that from 2010 to 2021, the number of supermarkets and shopping malls increased rapidly, from 567 supermarkets and 95 shopping malls in 2010 to 1,167 supermarkets and 254 shopping malls.
The number of convenience store chains has also increased sharply in recent years.
These changes showed that modern market infrastructure has been developed while the traditional market system has been modernized, especially in rural markets.
Notably, the convenience store system has flourished in Vietnam as a small and medium-sized retail model. This is considered an upgraded version of grocery stores, but they have more advantages, such as saving time and space, and better quality of service.
However, experts pointed to strong development in several markets, supermarkets, malls and convenience stores. Yet they do not have synchronous development and are mostly located in urban areas. Moreover, their legal framework has not kept pace with the development of commercial infrastructure.
Traditional markets, such as Mo and Hang Da markets in Hanoi, have been rebuilt for a long time, but so far they still have many empty kiosks without the bustle of before.
Indeed, Vietnamese consumers often prioritize convenience. They like to sit on a motorbike to buy food and vegetables in a small market along the sidewalk or a traditional market.
Vu Vinh Phu, a retail expert, said that there was only Decision 1371/QĐ-BTM of September 24, 2004 on the regulation for the development of supermarkets and shopping malls. However, these regulations have many outdated and inappropriate points, especially in convenience stores which have only grown strongly in the last five years.
The absence of a legal document relating to the management of convenience stores means that Vietnam does not have clear standards and strategies to encourage the development of convenience stores.
So far, state management agencies have yet to determine the number of convenience stores nationwide. As a result, he said, many consumers, businesses, state management agencies and localities are confused between convenience stores and convenience stores.
All the above factors mean that Vietnam does not have a chain of branded convenience stores, although it has seen strong development in several such stores.
Vu Thi Hau, chairwoman of the Vietnam Retailers Association, said that against the background of the growing demand for the development of civilized and modern business infrastructure, the MoIT should develop regulations on this issue and consult with many parties to create a legal corridor allowing companies to invest. to these convenience stores.
Last year, the Prime Minister approved a strategy for developing internal trade in 2030, with a vision for 2045.
The strategy has set a goal that revenues from goods and services in the modern retail system will account for about 38-42% of the country's total retail sales of goods and services, a rate higher than the rate of about 25 % currently.
Therefore, the future development of modern business infrastructure is expected to explode through this business development strategy. Legal documents are also needed to keep up with market developments.
Hanoi has set itself the goal of developing three shopping malls, ten supermarkets and 100 convenience stores, making commerce a high-quality, value-added service sector.
Accordingly, the city will encourage the attraction of investment in commercial infrastructure, including markets, supermarkets and shopping malls, ensuring compliance with planning.
At the same time, it will help enterprises to remove difficulties and obstacles to accelerate the implementation of new commercial infrastructure projects and to rebuild or renovate markets, supermarkets and shopping malls.
Source: Vietnam News