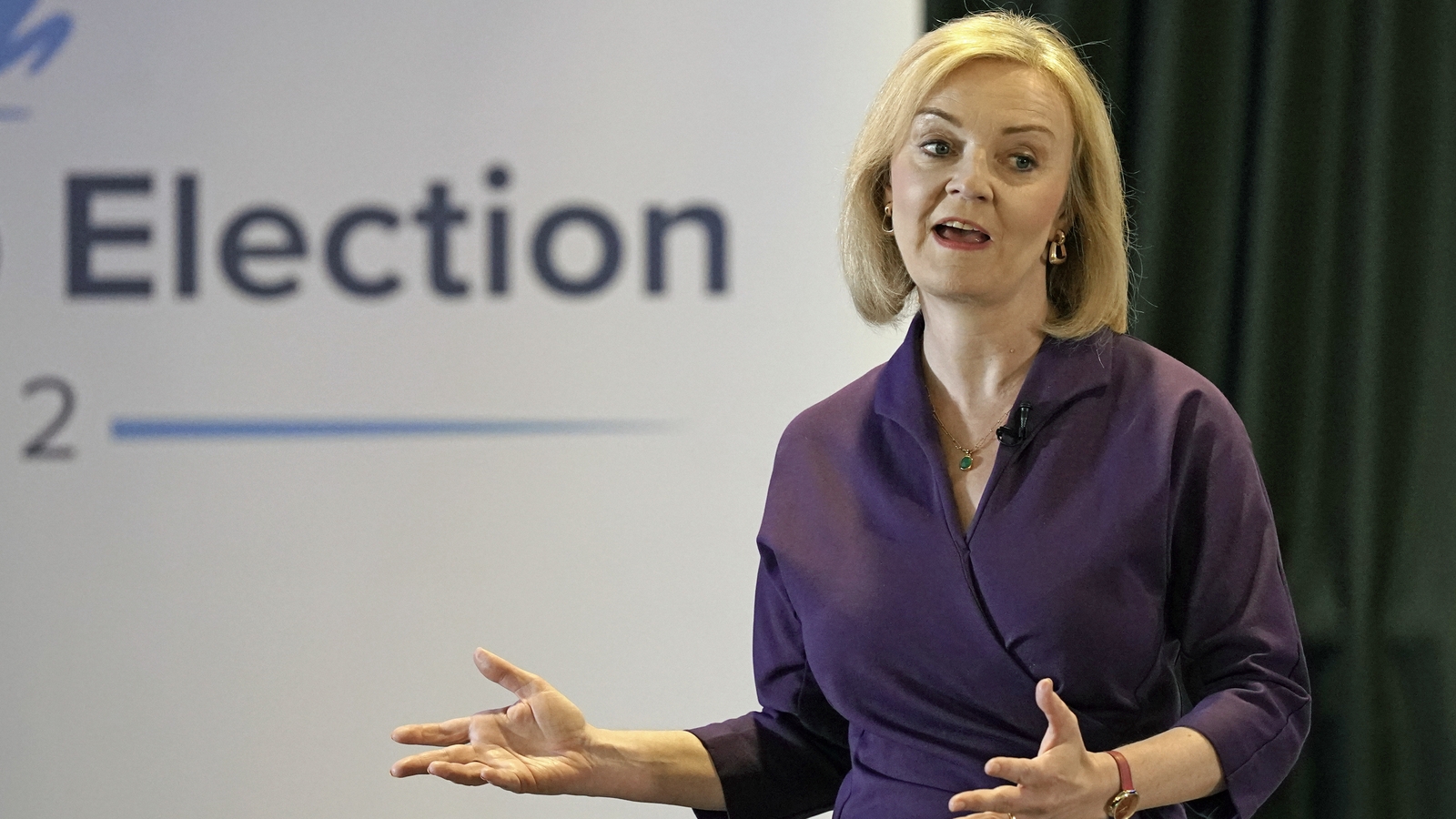 Truss 'determined' to deliver protocol bill in full
UK Foreign Secretary Liz Truss has said she is determined to introduce and push through the Northern Ireland Protocol Bill in Parliament.
She is in Belfast with Rishi Sunak to take part in the election campaign in the race to become Britain's next Conservative Party leader and prime minister.
Polls have so far indicated that Ms Truss is leading the race ahead of Mr Sunak.
Today's sold-out event is the eighth of a total of 12 hustings and is taking place at the Culloden Hotel in Belfast with around 200 members in attendance.
It is estimated that there are around 600 members of the Conservative Party in Northern Ireland, but the party currently has no elected representatives there.
Ms. Truss and Mr. Sunak will have the opportunity to answer questions from the audience and will also be interviewed separately by a moderator.
While the cost-of-living crisis has featured prominently in previous roundups, today's session is expected to provide the two candidates with an opportunity to discuss their opposition to the protocol in more detail. from Northern Ireland.
They are also likely to be asked about how they plan to restore power sharing in Stormont.
The couple are also expected to undertake separate visits to the city.
They were both challenged by Ulster Unionist Party leader Doug Beattie to state their positions on the Northern Ireland protocol last night.
He said the post-Brexit arrangements 'must be dealt with once and for all as they continue to undermine the Belfast deal and place a boundary between Northern Ireland and the rest of the UK'.
Voting is underway this month, and the winner will be announced on September 5.
---
Read more: Rishi Sunak vs Liz Truss: Key political differences
---
Northern Ireland Conservatives chairman Matthew Robinson said today was an 'incredible opportunity' to have a say in the party's next leader.
Speaking on RTÉ's Morning Ireland, he said party members were delighted to have the chance to meet the candidates and discuss issues such as the cost of living crisis, energy, the war in Ukraine, post-Brexit trade policy and taxation. cuts.
We need your consent to load this content rte-playerWe use rte-player to manage additional content which may place cookies on your device and collect data about your activity. Please check their details and accept them to load the content.Manage preferences
He said the party was "lucky" to have "two perfectly qualified candidates" to choose from as its next leader.
Mr Robinson added that the Northern Ireland protocol is a "key issue" for Tory members and that there does not appear to be a huge difference between the two candidates on this issue.
He said he would make his final decision on who to back after today's jostling, but he leans towards Ms Truss because of her 'actual depth of experience'.
"I think that might put her in Downing Street quite well," he said.
Northern Ireland's power-sharing executive collapsed more than six months ago, with the DUP insisting protocol issues must be resolved before agreeing to appoint a new president or new ministers.
Today's election campaign is the eighth out of a total of 12.
Additional reports per AP