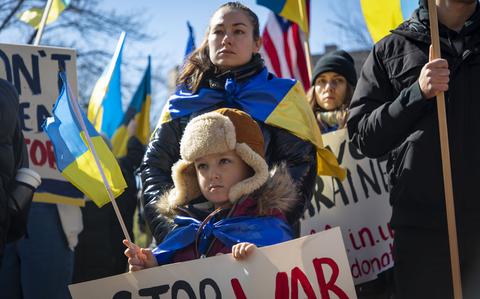 To support Ukraine, US governors cut economic ties with Russia
(Tribune News Service) – Outraged by Russia's invasion of Ukraine, governors and state lawmakers on both sides are seeking to impose their own economic sanctions.
Governors of at least 11 states – Arkansas, California, Colorado, Georgia, Illinois, Indiana, Massachusetts, North Carolina, North Dakota, New York and Virginia – are pushing state entities to review or cut financial ties with Russian companies.
Lawmakers in at least seven states — California, Illinois, Pennsylvania, New Jersey, New York, South Carolina and West Virginia — have proposed divestment bills. Some state agencies have announced their intention to cut ties with Russian companies. And governors of at least a dozen states have issued executive orders or sent letters to liquor regulators and state stores to halt sales of Russian vodka and other spirits.
Illinois State Rep. Jim Durkin, a Republican and House Minority Leader, said he wants his divestment bill to pass the legislature as soon as possible. He hopes other states will take similar action.
"Let's make this a national movement," he said.
The wave of state sanctions will likely be more symbolic than substantial, experts say. State pension funds and state agencies are not deeply dependent on Russian companies. Russian products are not very present on the shelves of American stores.
Some of the proposed sanctions could also raise legal issues. The federal government has authority over foreign policy, so state sanctions that conflict with federal sanctions could be unconstitutional, said Salar Ghahramani, associate professor of business law and international law and policy at Pennsylvania State University. , Abington.
State bans on products made in Russia could violate the US Constitution or international law if they run counter to trade agreements, he said. Or state sanctions could violate pension fiduciary duty standards if they end up reducing the value of pension funds.
But even as symbolism, state sanctions have value, said Gary Hufbauer, nonresident senior fellow at the Peterson Institute for International Economics, a Washington, DC-based think tank.
Hufbauer said the surge in state-level activity demonstrates popular support for the sanctions imposed on Russia by the Biden administration. "What this symbolism does is reinforce what is happening at the national level, with all the very heavy economic sanctions of all kinds.
Even if the state action isn't likely to materially affect the Russian economy, he said, "it adds moral weight. And that's important."
Courts have struck down state-level penalties in the past, arguing that such laws are preempted by federal law. In 2000, the Supreme Court overturned Massachusetts sanctions on Burma, and a federal court ruled in 2007 that Illinois' sanctions against Sudan were unconstitutional.
But that hasn't stopped governors and legislatures from trying to cut ties with companies doing business with governments whose actions they oppose, from apartheid-era South Africa to Iran and Cuba.
Sanctions are a family affair for Sen. Sharif Street, a Democrat from the state of Pennsylvania. His father, John F. Street, pushed Philadelphia to move away from apartheid-era South Africa when he was a city councilor in the 1980s.
Young Street is now seeking co-sponsors for a bill that would force Pennsylvania's state pension funds and treasurer to drop investments in companies that do business with Russia. The bill has won bipartisan and bicameral support, Street said, although the wording has yet to be finalized.
In New York, Democratic Senator Elijah Reichlin-Melnick plans to introduce a bill that would force the state to block contracts and eliminate investment in companies doing business in Russia. He also cited apartheid-era sanctions as inspiration.
"For me, it's the same general idea," Reichlin-Melnick said. "We are using the power we have economically and forcing a company to make a choice."
The Illinois bill and the proposed laws in New York and Pennsylvania overlap with divestment actions that their state governors — or, in the case of Pennsylvania, the state treasurer — have already taken. However, lawmakers are moving forward.
Although Illinois Democratic Governor JB Pritzker has called on state pension systems to consider reducing investment in Russian companies and assets, Durkin said legislation on the issue would ensure that divestment be codified in state law.
New York Democratic Governor Kathy Hochul has ordered state agencies and public benefit corporations to cut ties with companies headquartered in Russia or helping with the invasion. Reichlin-Melnick's office said in a statement that its legislation would go beyond Hochul's order by targeting companies with business ties to the Russian government.
"The goal of the senator's bill is to treat Russia the same as Iran and North Korea, as international pariahs," wrote Evan Menist, deputy chief of staff and director of communications.
In Alaska, lawmakers are urging the Alaska Permanent Fund Corp., which manages state oil revenues on behalf of residents, to divest from Russia. While fund officials said earlier this week that they had no plans to divest, they said they would "mitigate any sanctions-related issues."
Experts say the economic effect of state sanctions — and the legal issues they raise — may depend on how far they are drafted and how many companies they blacklist.
So far, the impact has been small.
In Colorado, for example, Democratic Governor Jared Polis asked the state pension fund and the treasurer's office to drop investments in Russian companies and ordered state agencies to cancel contracts with Russian companies. But the treasurer's office said it held no assets belonging to Russia. Colorado has no current contracts with Russian state-owned companies, Conor Cahill, the governor's press secretary, said in an email to Stateline.
The Colorado Public Employees Retirement Association has identified some $8 million invested in Russian public companies, spokesman Patrick von Keyserling said in an email to Stateline. But that's about 0.01% of the pension fund's overall assets.
Polis' request to give up those assets is "in accordance" with sanctions imposed by the US Treasury, von Keyserling added. The Treasury froze the assets of some Russian banks and prevented Russian banks and Russian government-affiliated companies from issuing debt securities or raising capital in the United States.
In New York, State Comptroller Tom DiNapoli said in a press release that the New York Retirement Fund for State Employees has "minimal exposure to the Russian economy." The fund has about $110.8 million invested in Russian companies, according to the statement. This represents approximately 0.04% of its overall holdings.
State agencies that have been asked to drop Russian vodka said the liquor accounts for a small share of spirits sales. The Pennsylvania Liquor Control Board told the Philadelphia Inquirer, for example, that Russian vodka accounted for about 0.06% of total spirits sales in the state over the past year.
Although many vodka brands have Russian names, only a few are genuinely Russian, said Mark Schrad, an associate professor of political science at Villanova University who has written a book on vodka politics.
"Everybody's focused on the Russian-sounding ones, like Smirnoff and Stolichnaya," he said of the vodka brands. But Smirnoff, for example, is run by a London-based drinks giant and manufactured in 11 countries (not including Russia). And Stolichnaya, although marketed as Russian vodka, is made in Latvia. "[Smirnoff] has nothing to do with Russia except for the Russian name," Schrad said.
Overall, the United States and Russia engaged in about $34.9 billion in trade in 2019, according to the Office of the United States Trade Representative, the federal agency that conducts trade policy. Top imports from Russia that year were fossil fuels, precious metals and stones, iron and steel, fertilizers and inorganic chemicals, according to the agency.
By contrast, hundreds of billions of dollars in goods and services were traded between the United States and each of its major trading partners — Canada, Mexico and China — that year.
Schrad said that while Russian alcohol boycotts are largely symbolic, enough action — from social media posts to planting a Ukrainian flag in the backyard — can still be a powerful message of opposition to the Russian invasion and support for Ukraine.
"Having enough token actions really makes it clear that it's not just a small thing, it's not a small gesture," he said. "It's kind of a global response."
———
©2022 The Pew Charitable Trusts.
Go to stateline.org.
Distributed by Tribune Content Agency, LLC.