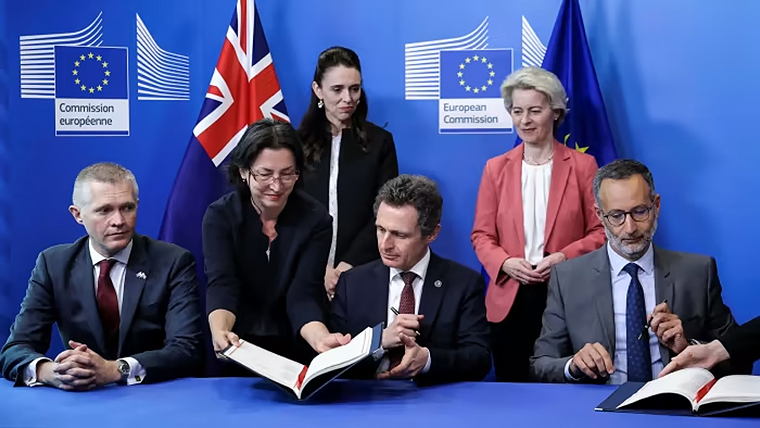 EU FTA is not perfect but offers the best deal
Negotiations recently concluded in Brussels have brought significant benefits to New Zealand exporters other than meat and dairy in exchange for very little substance for the EU. New Zealand negotiators found themselves in an unenviable position, trying to extract concessions on key products from a highly protectionist trading bloc with no high cards in hand.
From the perspective of the meat industry, there is little enthusiasm for the additional sheep meat quota or the small agreed quota for beef, as there is little incentive to develop sales programs significant for EU customers with no gain on other market options.
Rick Walker, ANZCO GM Sales and Marketing, worked for three years in Brussels on Fonterra's trade policy, which gave him insight into how the EU works. He is therefore neither surprised nor disappointed by the result for the red meat sector. He says New Zealand had very little bargaining power, unlike the recent free trade deal with the UK, where Britain was eager to demonstrate its ability to negotiate new deals outside of its former EU partners.
In his view, the deal for New Zealand as a whole was reasonable and might not have stayed on the table if we had tried to play hardball and pushed for greater concessions on the two main agricultural products above. above those of the other categories. This contrasts with the reaction from DCANZ, Beef + Lamb NZ and the Meat Industry Association, who all believed that Jacinda Ardern had unwittingly or deliberately lowered EU expectations of New Zealand's commitment to demands. significant concessions for meat and dairy products to the detriment of an agreement.
Alliance Group's Chief Sales Officer, Shane Kingston, expressed an opposing view of the company: "The EU is an important market for all of our products, so we are extremely disappointed with the access to beef advertised in the EU-NZ FTA. For the Alliance Group, the FTA does not create significant new opportunities in a market of 6.5 million metric tons. This means that it is simply not viable for an exporter to set up a program to sell beef in the EU. AFFCO's Mark de Lautour also confirmed there was nothing for them.
The person closest to the deal was Vangelis Vitalis, New Zealand's chief trade negotiator, who told last week's Primary Industries Summit in Auckland that the EU was "the most protectionist agricultural trade bloc in the world". He said it had been extremely difficult to deal with 27 groups of trade negotiators who believed the FTA was only about managing New Zealand's market access, not free trade at all.
Vitalis told the summit that the EU did not need to strike a deal with New Zealand, a market of 4.8 million people that already offers largely duty-free access to EU products. EU. In contrast, Australia is much more important, both because of the size of the market and the high tariffs applied to EU imports. He said he was told 'many, many times in the last week we care about Australia, we don't care about you'. This is arguably apart from the perceived dangers posed by our dairy and beef exports, as well as the WTO mutton quota, which the EU would no doubt very much like to get out of. If this quota had not been guaranteed following Britain's initial accession to the EEC in 1973, New Zealand sheep and cattle farmers would have been faced with the need for a change in even more traumatic land use.
Vitalis also warned that the deal is not yet done, as it must be approved by the European Parliament, a process that at least avoids the trap Canada has fallen into of having to obtain approval from individual parliaments. on the agreement translated into several languages. However, EU agricultural interests, including its federated farmers equivalent, the Copa Cocega, believe their dairy, sheep and cattle farmers "are the sacrificial lambs" of the deal and have already held crisis talks in Parliament on how to combat it.
What was actually achieved in the FTA, assuming it is finally ratified, sounds impressive, although the numbers may exaggerate the benefits somewhat: 91% of New Zealand trade, rising to 97% after seven years ( presumably by category, not by value), will enter the EU duty-free, which economic modeling estimates to increase exports by up to $1.8 billion, adding $1.4 billion to GDP. Over seven years, access to beef will increase by 3,333 tonnes immediately and by 10,000 tonnes after seven years with a 7.5% tariff, the sheep meat quota will increase by an additional 38,000 tonnes (although the current quota of 112,000 tonnes is not reached), while butter, cheese and milk powder will also benefit from better access. It is not known how much of these allocations will be used.
Apart from the low access for meat and dairy products, what has actually been achieved for all sectors is pleasing. The main beneficiaries will be horticulture with savings notably on kiwifruit, onions and apples, seafood and fish, wine and honey, as well as services and manufactured goods. Manuka honey specifically gets tariff-exempt status from day one, as do 99.9% of horticultural products and 99.5% of seafood.
New Zealand negotiators have refused to budge on other contentious issues, including Zespri's one-stop seller status which the EU wanted to break up and patent terms for agricultural chemicals, veterinary drugs and pharmaceuticals humans that the EU wanted to extend beyond 6 to 8 years. The latter is critically important for preserving the generic Pharmac buying model, while Zespri has proven to be a very cost-effective and innovative method of maximizing revenue from kiwifruit. A move on any of these items would have had serious cost implications.
All things considered, this FTA may not be perfect, but in the longer term it should stimulate the economy and provide a basis for review and improvement.
---
The current schedule and prices for the Sale Yard can be found in the right menu of the Rural section of this website.