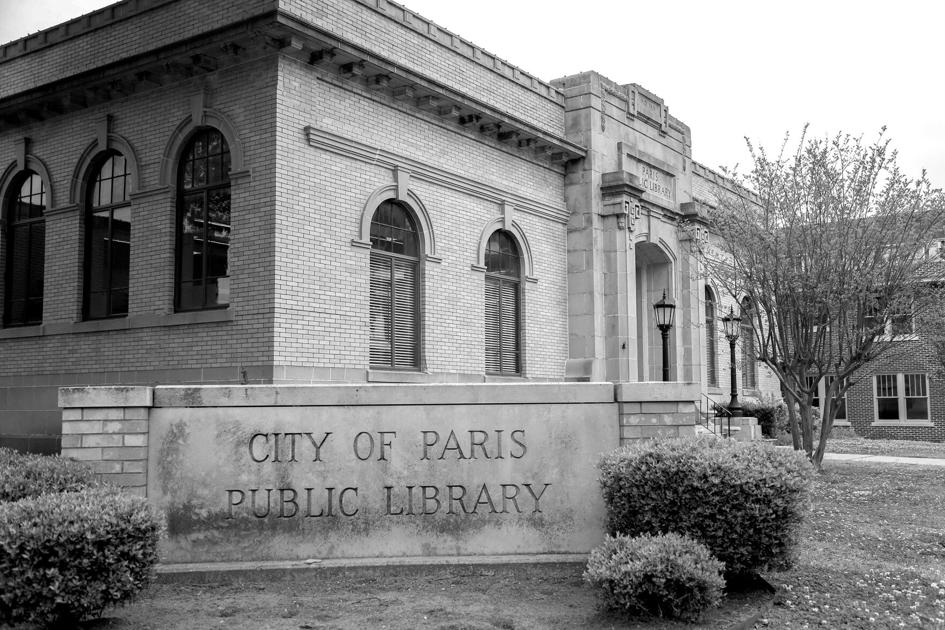 Bibliothèque de Paris organizes its 90th anniversary | To free
The Paris Public Library will celebrate its 90th anniversary next year and its new director invites the community to get involved.
"I arrived in Paris earlier this summer and found out a few days ago that next year would be the 90th year of running this library there," said Tim DeGhelder. "We've just started planning how we're going to celebrate it, but I'm hoping to get together with the Friends of the library and plan some kind of birthday party, maybe a series of special programs or maybe be a special commemorative Christmas decoration. can cling to their trees. We can find a way to celebrate with projects that will give back to the community that supports us. "
DeGhelder said he is encouraging community members to get involved as the anniversary approaches.
"We would love to hear from people about how the Paris Public Library has changed their lives. They can just call the library and talk to us or visit our Facebook page and tell us their stories, "he added. "If they wanted, they could give us a birthday present, a donation to the library, so that we can continue to give back to the community.
"Or they could volunteer here at the library and be a part of the library's history from now on."
The Paris Public Library began when Mrs. TM Scott hosted the first meeting of the Paris, Texas Library Association at her home in August 1926. The city's first library opened on the first day of February 1927 , with 685 books and a librarian, Miss Gertrude Drummond.
In 1931, local businessman and civic leader JJ Culbertson and his wife, Emily, donated land on South Main Street – the site of their home before it was destroyed in the fire at Paris of 1916 – for a public library, and Emily transformed the first dirt shovel when it opened in June 1931. The Culbertsons also funded construction costs of $ 50,000. The building, designed by JL Wees, was completed in 1932.
In 1957, the library extended membership to all residents of Lamar County. In 1985, the building was crowded and showing signs of disrepair, and the library board and other community supporters lobbied for a $ 975,000 bond issue, which was passed with a margin of 63%. A matching federal grant allowed the library to renovate the original building and expand it to over 9,000 square feet at the back. The new wing, which opened in November 1987, featured more accessible shelving and counters, while retaining the charm of the original building.
In 2019, an outdoor terrace was completed on the library property facing the market square, behind the library. The grounds are also home to a monument placed by the local chapter of the Daughters of the American Revolution commemorating the alleged visit of American hero Davy Crockett to what would become Paris on his way to the Alamo.
The library is part of the historical fabric of Paris. It is also home to works of art renowned among Texas art experts and historians, including Paris native Jerry Bywaters, a leader of the Lone Star Regionalism movement; famous black artist John Biggers; and nationally recognized and honored Texan artist, Jose Cisneros, who illustrated local journalist AW Neville's 1949 book, "The Red River Valley, Then and Now."
In addition to thousands of books, magazines, videos and print newspapers, the library also offers its members access to online books from across the country and around the world, interlibrary loans, activities on room for all ages, referral service, Internet access as well as free Wi-Fi service during opening hours, fax and photocopying service and homework help for students. The Gallery Meeting Room is available to approved nonprofits.
The Paris Public Library is open from 9 a.m. to 6 p.m. Monday and Wednesday to Saturday and from 10 a.m. to 8 p.m. on Tuesday. It is closed on Sundays. Call 903-785-8531, visit paristexas.gov/89/Public-Library for more information or find them on Facebook for more information.